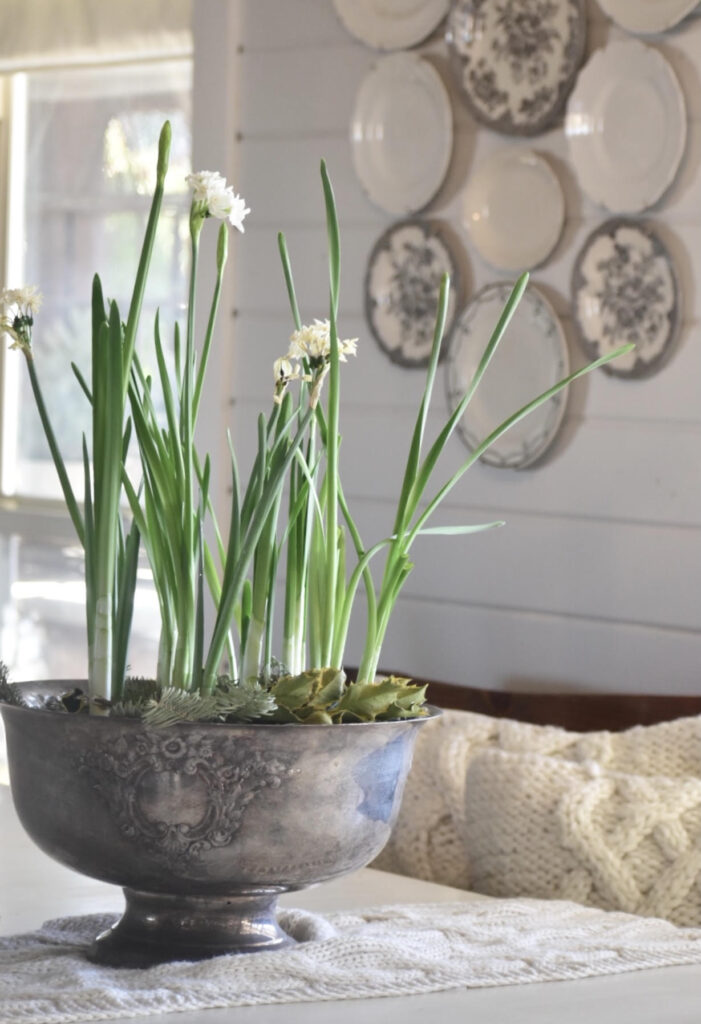 If you have been around a while, then you know that I love flowers. I really love flowers. I have a favorite for each season, and my favorite winter/holiday flowers are paperwhites. They are super simple to grow, and smell amazing. Every year when I post a picture on one of my social media sites I get so many questions about them, so I decided to write this post, HOW TO PLANT CHRISTMAS PAPERWHITES.
First thing you need to know is when do you want these to bloom. The most asked question is always, "when should I plant paperwhites?"
The best time to plant your paperwhites for Christmas blooms would be 4 to 6 weeks when you want them the freshest. If you want them blooming in early December for the start of Christmas season, plant in mid to late October. If you want them to last through the gloomy month of January then you will want to wait until November. I personally plant a few early for Christmas, and a few later for January.
Next question: "What all do I need?"
Container or pot for planting. I love collecting vintage vessels and ironstone bowls throughout the year to use.
Bulbs. This is where I pick mine up every year https://rstyle.me/+ykNuS9RMVCtJcyYA3Bx5aQ Or this year I bought these https://amzn.to/3br0ri5
Soil or gravel
***alcohol
That really is all that you need.
Next How do I plant them?
You will want at least 2 inches of soil or gravel for drainage. Set the bulbs gently in the soil or gravel, and pack more soil around the bulbs, leaving the tips visible. Water the bulbs thoroughly until the soil is soaked.
That's it. They really are that easy! I treat them just like all of my indoor plants. Keep them moist but not soggy, and keep them out of the direct sun.
*** Last December I read that for shorter, more stable stems, grow paperwhite bulbs in water with a 5% alcohol concentration, and it worked. They still grew beautifully, but just not as tall.
Hope this helps to answer some of your questions about growing paperwhites. Be sure to check out my last post here: https://mylittlewhitebarn.com/christmas-decorating-ideas/
xoxo