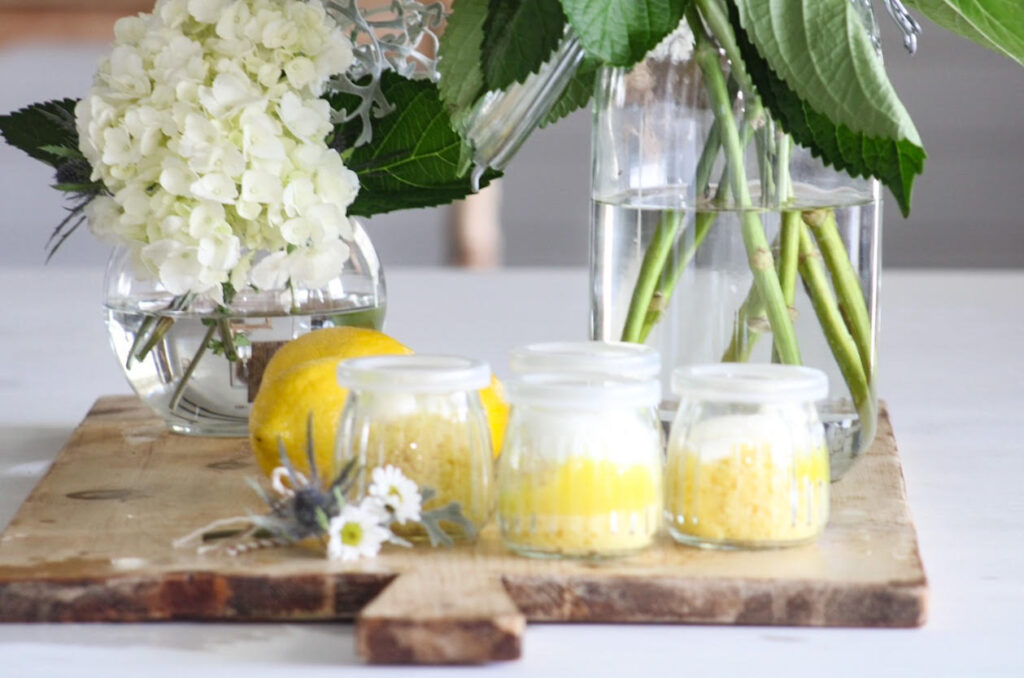 Here I am with what will probable be my last summer post this year, even though summer is all we can think of. It's so darn hot that we can't think of anything else. As a matter of fact when I was asked how I was from a friend last night, my response was "I'm hot, how are you?" It seems to be the response from all of us here in Texas! Speaking of summer, today I'm going to show you 3 ways to use lemons this summer. Why not?? They are so pretty and can be used so many different ways!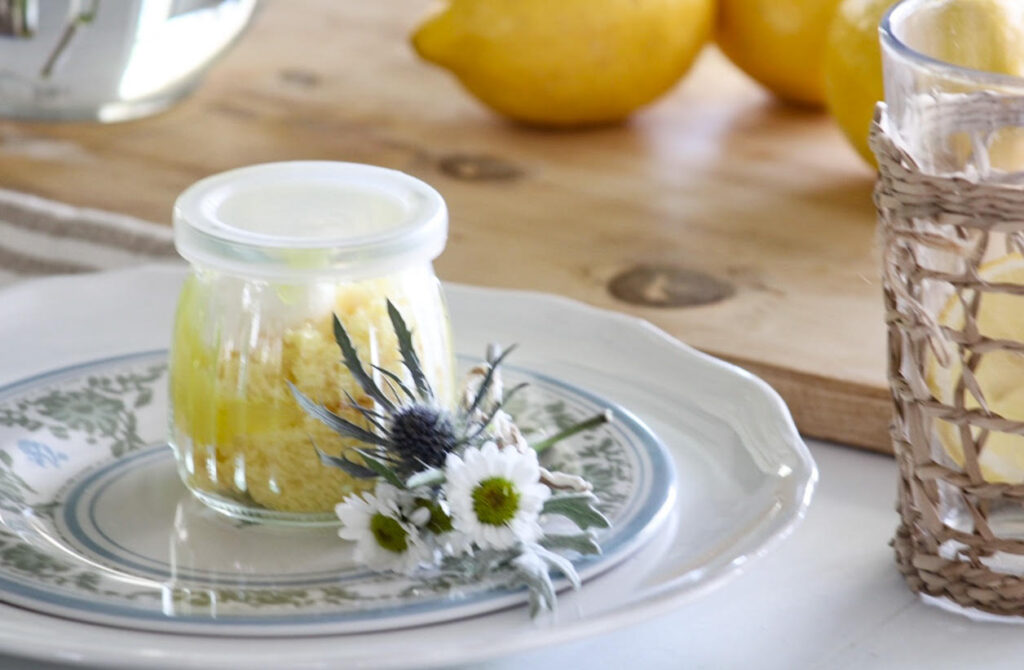 I love using lemons in my spring and summer decorating. Most of all love using lemons in desserts!! My favorite summer dessert is lemon cake, and my favorite way to serve it is in a jar. We are usually out by the pool or on the porch, and when I'm serving dessert outdoors its always easier to have something with a lid on it. I start by making a lemon box cake on a sheet pan (with a small edge). Once it cools then I use a round cookie cutter and cut out a circle of cake. After it's cooled I layer it in the jars with icing. You can add a little lemon curd in between the layers for a little extra yum, but totally not necessary. The icing between cake layers is fabulous by itself. Not to mention pretty too! I bought these jars here https://amzn.to/3zI1hE7, and I love them because they are reusable all year .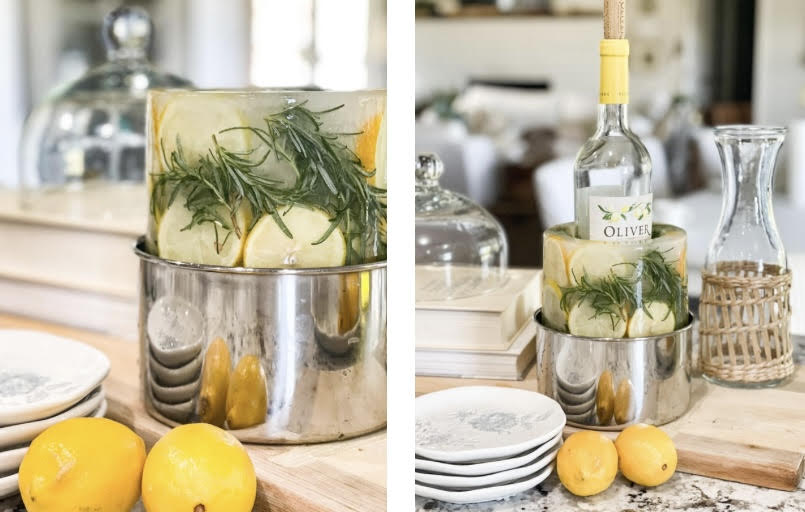 Have you ever made an ice bucket? I make one every year for Christmas, so I thought this summer why not make one with lemons. It added the perfect touch to a dinner party that I hosted, and it was super easy to make. I ordered this mold stuffed it with fresh lemon slices, and some fresh rosemary https://amzn.to/3JebMlA . The mold made it super quick and easy.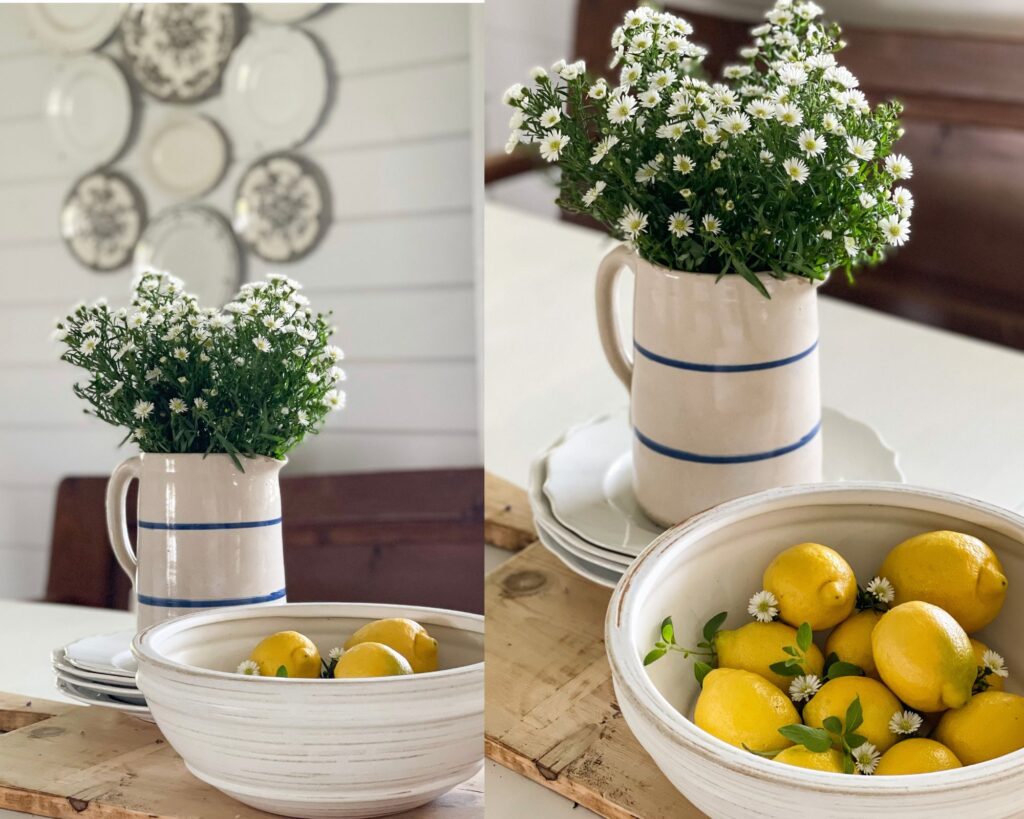 Lastly, In the summer I love to use them in my everyday centerpiece. I simply put an old cutting board in the center of my table and add a bowl of lemons, and a pretty pitcher. The bright yellow makes the perfect summer statement. It's simple and beautiful.
If it's still hot in your neck of the woods, be sure to check out my yummy southern lemonade recipe https://mylittlewhitebarn.com/sweet-southern-style-old-fashioned-lemonade-recipe/ while your out buying your lemons!!
xoxo