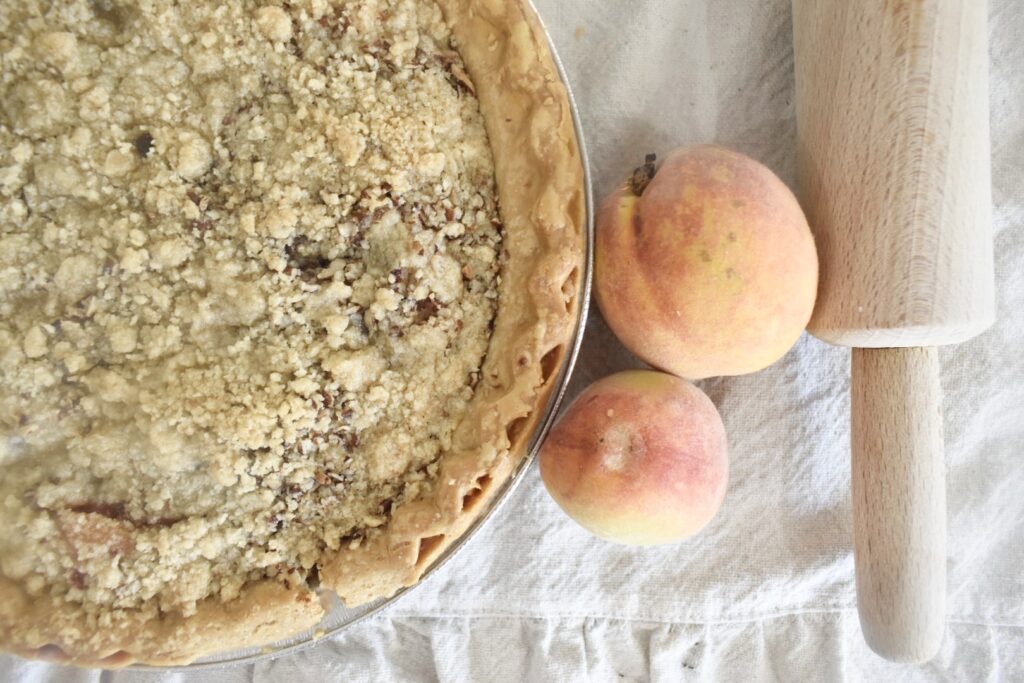 Now that it is officially peach season, I'm in the kitchen creating as many recipes that I can think of to use all the peaches from my trees. This peach pie with shortbread topping is my favorite. This is the easiest "homemade" pie you will make. Actually my peach pie with shortbread topping recipe is only halfway homemade. Want to know my secret for the best pie crust? Frozen pie crust, ha ha.
Remember when I showed you my DIY Garden scarecrow? I made him to scare off the birds from my peach trees. https://mylittlewhitebarn.com/diy-garden-scarecrow/ Well he worked, and now I have a crazy amount of peaches to use. If you don't have access to fresh peaches, frozen will work in this recipe just as well.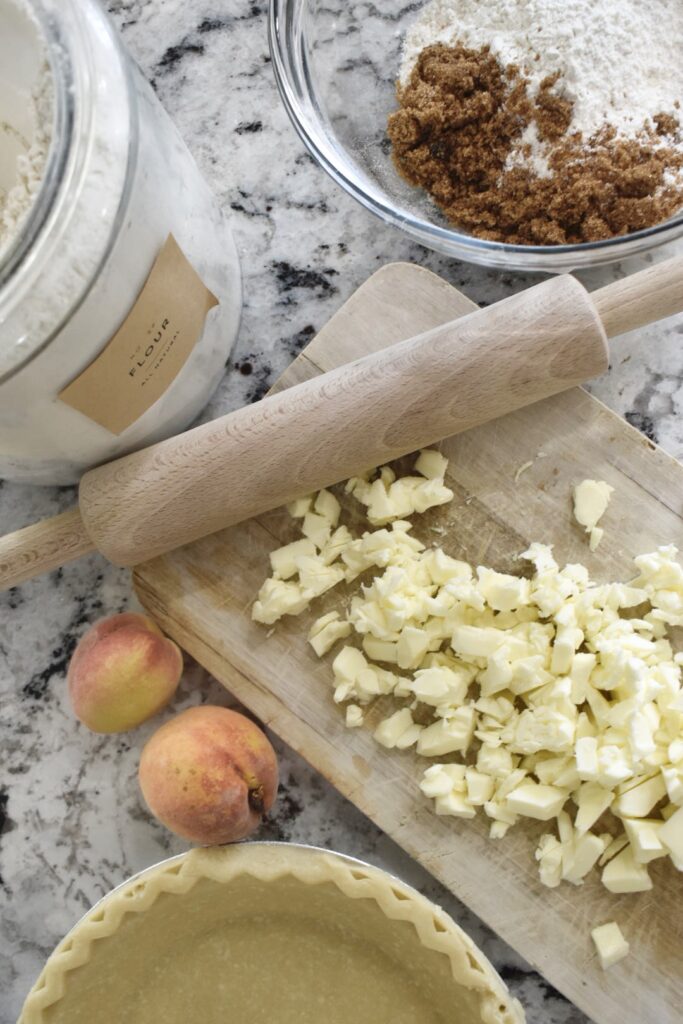 Ingredients
1 deep dish frozen pie crust
5 cups of fresh or frozen peaches
2/3 cup of sugar
1 tablespoon lemon juice
4 tablespoons cornstarch
Stir together peaches, sugar, lemon juice, and cornstarch. Pour into frozen pie crust.
Topping:
12 tablespoons salted butter
2/3 cup sugar (brown or white or a combination)
1 1/2 cups all-purpose flour
1 cup pean pieces
Grate cold butter into a large bowl. Alternately, you can dice it small.
Add sugar: use all brown or all white or a combination to make 2/3 cup. Use whatever combination you like (I like using 1/3 cup each brown and white).
Add flour and then, using a pastry cutter, work the butter into the flour and sugar until the mixture forms coarse crumbs. Mix in the cup of pecan pieces
Top the pie with a crumble topping
Place a pie shield around the edge of the pie and place the pie on a cookie sheet.
Bake for 10 minutes at 425° then lower the temperature to 350°F and bake for about 30-40 minutes, or until crust is baked through and golden.
Happy peach season, hope you follow along to see what all I'm making with them this year!
xoxo