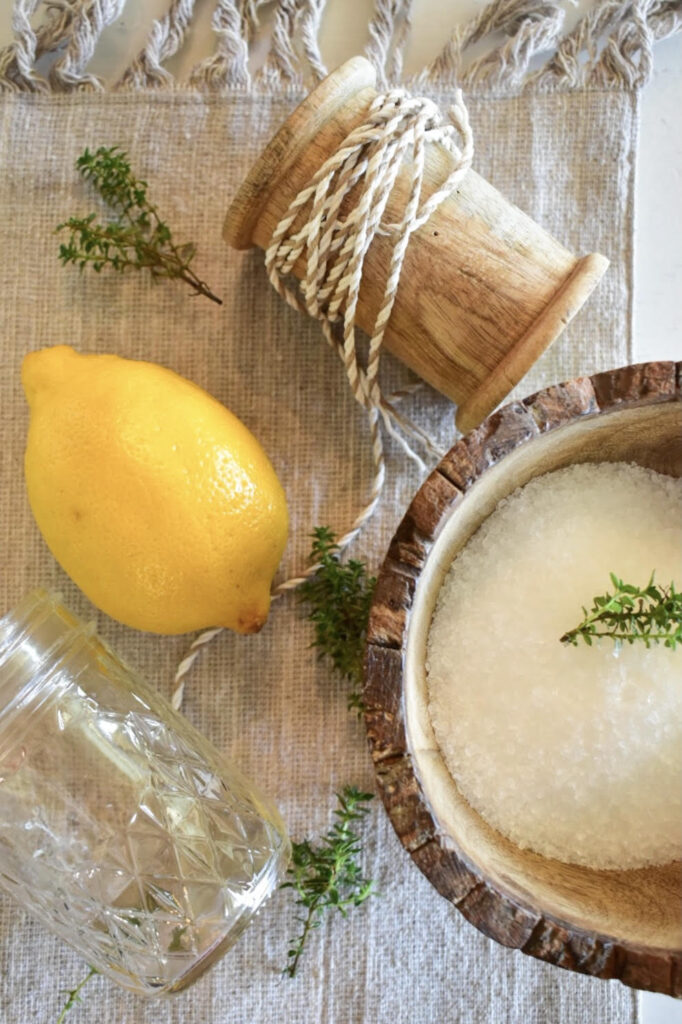 We are right in the thick of the heat of summer! Here in Texas it's so hot you don't even want to leave your house. With the heat, and the long days in the sun my skin really needs a little love. I also have an abundance of herbs growing in the garden, so instead of using them in a recipe which will only heat up my kitchen I decided to make a DIY BODY SCRUB FOR SMOOTH SKIN. If you want to know how to make a homemade body scrub for dry skin, this is the recipe for you.
This scrub is so simple to all you need is a little bit of salt, olive oil, freshly squeezed lemon juice, and some fresh lemon thyme. I highly recommend growing this yummy herb, its so easy to grow and can be used so many ways.
This time I made a small batch because it is fresh and will not preserve for too long. This can be doubled or tripled in size if you want to use some for a party favor or a gift for someone special.
Here is the recipe that I use:
1 1/2 cup of Epsom Salt https://www.amazon.com/gp/product/B07NJPMVG9/ref=as_li_tl?ie=UTF8&camp=1789&creative=9325&creativeASIN=B07NJPMVG9&linkCode=as2&tag=mylittlewhi0e-20&linkId=052319518e604cad06bd0f3eb4463892
4 Tablespoons fresh lemon juice
Fresh lemon thyme sprigs (you can use regular thyme or rosemary)
Jar
Twine or ribbon to make it pretty
To make:
Combine the salt, and oil in a bowl. Add the fresh lemon juice, stir to combine. Pick the leaves off of your thyme sprig. Use as little or as much as you would like. Scoop into a jar and secure the lid.
It's super easy to make and looks so pretty! Use it on your hands, legs, elbows or any dry area of skin (avoid your face though)
*Because it is all fresh ingredients be sure to store in the fridge, and make sure you test it on your skin before using too much.
Be sure to check out this post for other ways to use fresh herbs. https://mylittlewhitebarn.com/5-easy-ways-to-use-fresh-herbs/
xoxo