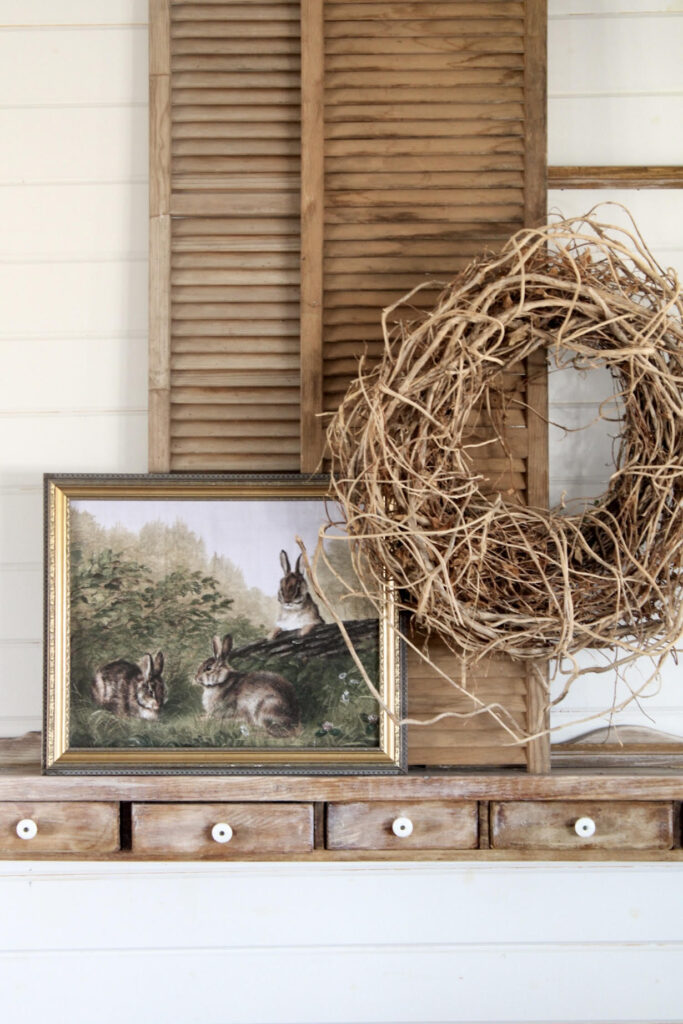 Hi there, and welcome to my Simple Spring Home Tour. We have a lot of home projects, and renovations happening here at the farmhouse right now. This is why I decided to keep my spring decorating pretty simple this year. I don't know about you, but for me it's hard to find inspiration during all the choas and unfinished jobs. Needless to say, I couldn't resist adding some spring to the areas that I could get too! I'm sure I'll be adding some more throughout the season, and I will definitley be adding some easter touches sometime soon too.
When you enter into my home you enter right into the mail living area, which doesn't allow much room for an entry table. Instead of blocking that walkway with a table I added this big shelf, and I love to change it up seasonally. I bought this vintage rabbit print https://rstyle.me/+9NyHUrlShuuO-5u1FdE9og, downloaded it and printed it at my local office supply store. I added it to a frame I already had, and it was just what this shelf needed for a little spring touch.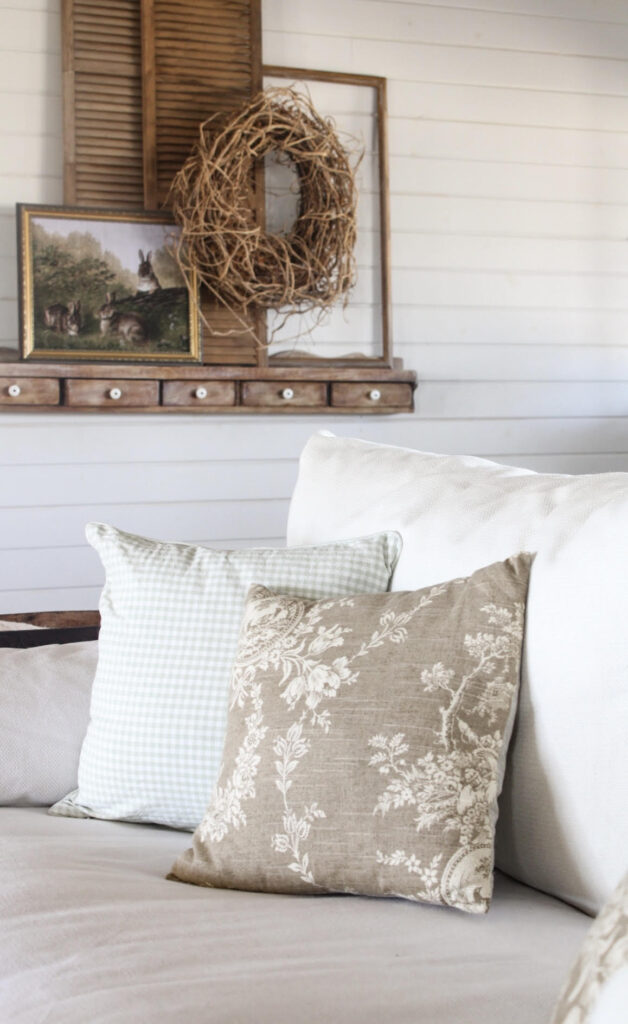 In my living room I changed the pillows on my sofas to a softer lighter fabric. I found these beautiful toile covers on Etsy https://rstyle.me/+OskppCyvRXMR74jaUPACpQ, and these pretty green checked pillows at my local Target https://rstyle.me/+nXs4Oto2c89-WvHCkNu54A. I love the way they added a pattern to the sofas, but still keep the room looking neutral.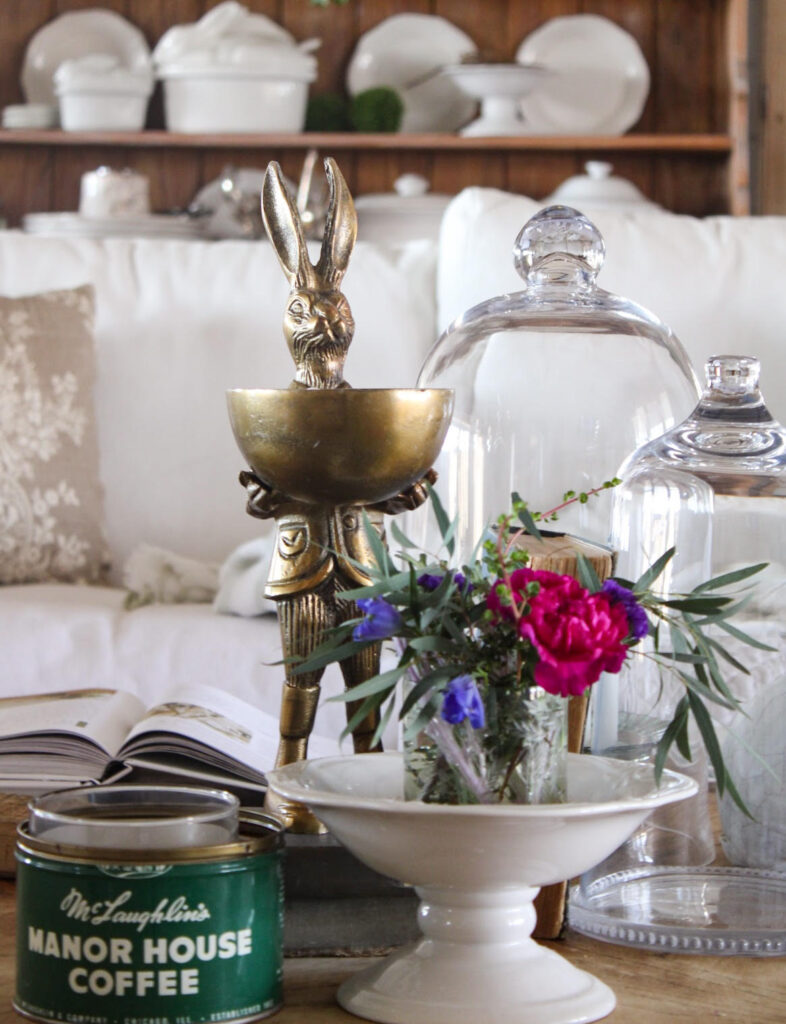 On the coffee table I added a small bouquet of grocery store flowers, but I can't wait for summer so I can add my own garden flowers. I always change the scents in my home for each season so I added a spring citrus candle to a vintage coffee can. I also added some fun spring candy to my brass butler bunny.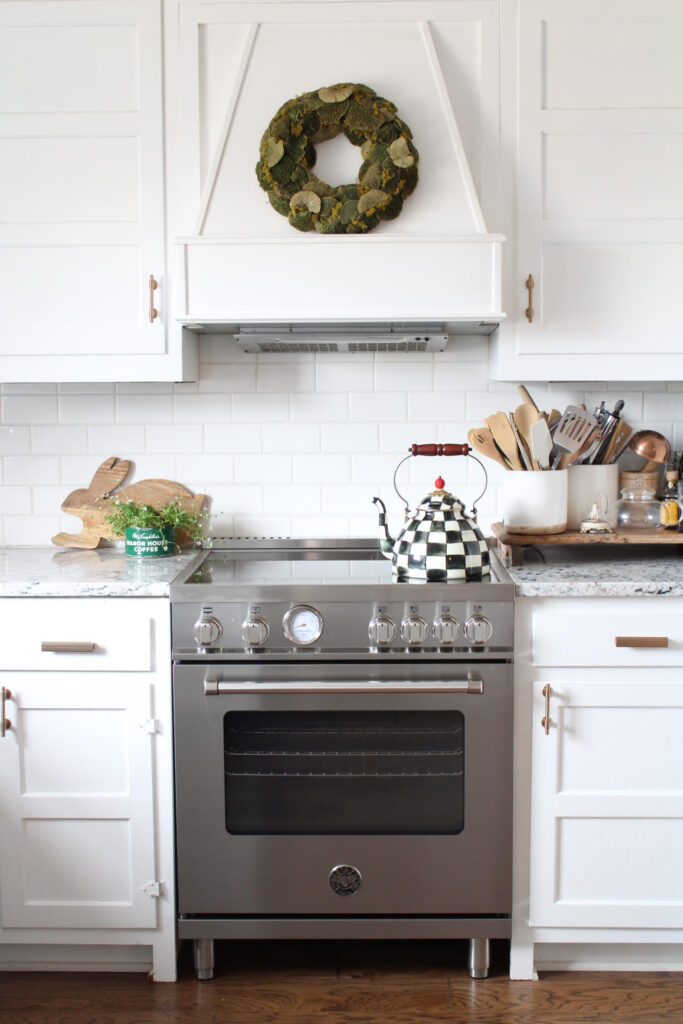 In the kitchen I added a simple moss wreath to my venthood. This one is currently sold out, but you can easily make your own. https://mylittlewhitebarn.com/diy-spring-moss-wreath/. I also added a small plant, and this super cute bunny serving board https://rstyle.me/+liqzhWwG-8wWDcfPv2kV4g. Sometimes I love lots of stuff on my kitchen counters, and sometimes I like to keep them clean and simple.
** Notice I used this vintage coffee can on my coffee table as a vessel for my candle, and here as a vessel for a small plant. Keep in mind when your thrifting that something you find can be used for different purposes.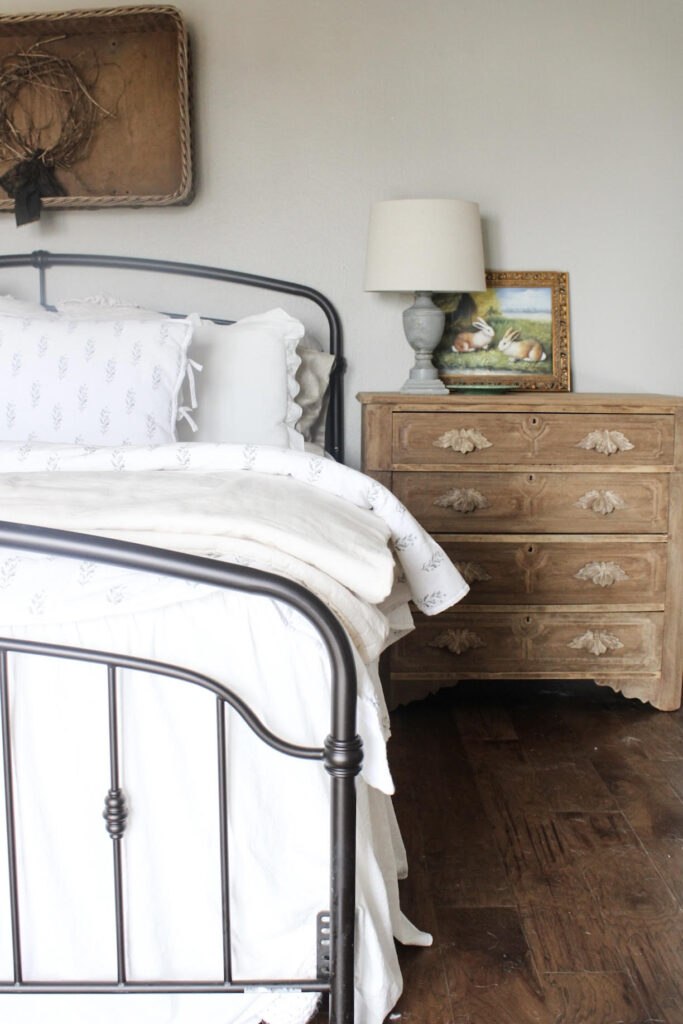 In my bedroom I took off all of the heavy cozy extra blankets, and added a more lightway fabric quilt. I have to be careful that I don't do this too soon, because here in Texas our cold weather can come back for a few days unexpectedly.
I also switched out the art on the nightstands to a fun bunny painting. If you noticed I tend to keep my "hare" rabbits up all year, so this will probably stay here until the holidays.
Well that's all for today, if you haven't already be sure to check out some of my fun spring table ideas…https://mylittlewhitebarn.com/inexpensive-spring-table-ideas/
xoxo